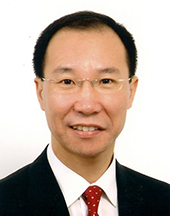 James obtained a Bachelor of Law and a Master of Law from Peking University, a Doctor of Law from Renmin University of China and a Postgraduate Diploma in English and Hong Kong Law from the Manchester Metropolitan University. He was admitted as an Attorney of the PRC in 1994, and registered with the Law Society of Hong Kong as a foreign lawyer since 1996. James is a member of both the Charted Institute of Arbitrators and the Hong Kong Institute of Arbitrators and is an accredited mediator.
James is a prolific writer and publishes regularly in legal journals. He was a visiting lecturer in China Business Law at the Hong Kong Polytechnic University from 1995 – 1997, a visiting professor in PRC Bar Examination Revision Program at the All China Lawyers Training Institute, Shenzhen from 1995 – 1998, and has been a part-time lecturer at the University of Hong Kong since 2001.

James currently serves as Vice Chairman of Greater China Legal Affairs Committee, and the Vice Chairman of the Community Relations Committee of the Law Society of Hong Kong. He is also the Chairman of Liquor Licensing Board, Chairman of the Property Management Services Authority, a Panel Member of the Solicitors Disciplinary Tribunal, Member of Citizens Advisory Committee on Community Relations of the Independent Commission Against Corruption, Member of Advisory Committee on Post-service Employment of Civil Servants, Member of Correctional Services Department Complaints Appeal Board, Board Member of Agency for Volunteer Service, Honorary Advisor of Hong Kong Customs College, Honorary President of Academy of Guangdong-Hong Kong-Macao Greater Bay Area Joint Mediation, Vice-Chairman of Association of Hong Kong Professionals, and Vice-Chairman of Joint Committee for The Promotion of The Constitution and Hong Kong. Basic Law.

He is also a Fellow of registered financial planner and a Fellow of the Hong Kong Institute of Directors. He is also a Founding member of the Hong Kong Independent Non-executive Directors Association.