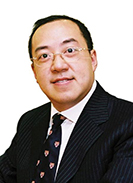 Richard obtained his Bachelor of Laws (Hons) degree from the University of Essex and a Masters of Laws (Hons) degree from the University of Cambridge. He was admitted as a Solicitor of the High Court of Hong Kong in 1993, thereafter he founded Tsun & Partners and is also the Chief Representative of the Beijing Representative office of the Firm. Richard has substantial experience in commercial law practice.
In addition to an established legal practice, Richard has interest in serving the legal profession. He was a Member of the Law Society's Working Party on Conditional Fees Member from 2005 to 2011 and was a Panel Member of the Solicitors Disciplinary Tribunal Panel established under the Legal Practitioner's Ordinance (Cap 159) from 2005 to 2010. Other extra professional activities include being a Senior Member of the Hong Kong China Chamber of Commerce Council, the Vice President (Legal Sector) of the Young Professionals Alliance, Executive Councillor and Legal Advisor of the Hong Kong Independent Non-Executive Director Association and directorship in a number of listed companies.
He has also various publications on PRC commercial law, PRC securities law and practice insofar he edited the "Professional Guide to 21st century PRC enterprises on Listing in the Hong Kong Stock Exchange" in 2002 as well as Tsun & Partner's Newsletters on PRC legal developments.