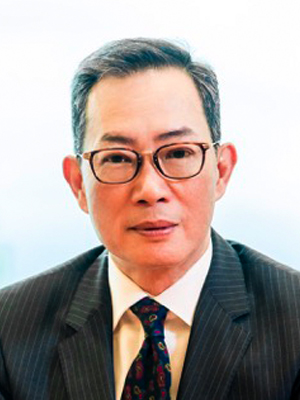 Mr. Stephen Kai-yi Wong graduated from the University of Hong Kong. Subsequently he received a Government Legal Scholarship to pursue legal studies and training in England, obtaining the professional qualification as a solicitor of the Supreme Court of England and Wales, a Master of Laws degree from the London School of Economics and Political Science (in Intellectual Property, Civil Litigation, Shipping and Marine Insurance) and the qualification as a barrister of the High Court of Australia. He also attended various courses and programmes at Tsinghua University, Beijing National Academy of Governance (Senior Directorate Course), US Harvard University JF Kennedy School and US The Wharton School of the University of Pennsylvania. He was called to the Hong Kong Bar in 1993.
Stephen started his legal career in the then Attorney General's Chambers as a Crown Counsel (Prosecutions), proceeding to Senior Crown Counsel (Criminal Appeals), Assistant Director of Public Prosecutions and Deputy Principal Crown Counsel (responsible for reunification legal affairs). In 1991, he was seconded to the Human Rights Committee of the United Nations based in Geneva. In 1997, he was promoted to the rank of Principal Government Counsel, being the first Deputy Solicitor General of Chinese ethnic origin (in charge of Human Rights, Basic Law, and Hong Kong-Mainland legal issues and reciprocal arrangements). During the period 2007 – 2012 as the Director of Economic and Trade Affairs (Central & Eastern Europe), he was posted to the Hong Kong Economics and Trade Office in Brussels, setting up the first overseas representative office – the Hong Kong Economic and Trade Office in Berlin. In 2012, he was posted as the Secretary-General of the Hong Kong Law Reform Commission. Three years later in 2015, he was appointed by the Chief Executive of the HKSAR as the Privacy Commissioner for Personal Data. He completed his 5-year tenure in 2020 and has since been practising as a barrister-at-law. Currently, he is also the Chairman of the Independent Vetting Committee of the Hong Kong Institute of Big Data Governance, an advisory member of the Hong Kong Genome Institute, etc.

With respect to public office in the mainland, Stephen has been approved by the State Council to become a Council Member of the China Law Society since November 2013. Currently, he is also an adjunct professor of the Faculty of Law, Beijing Normal University, an expert member of the Greater Bar Area International Information and Technology Association, an expert member of the Southern Finance and Economics Compliance Technology Research Institute, a Council Member of the Shanghai Overseas Friendship Association, etc.

In September 2021, Stephen was elected as an Election Committee Member (Legal) of the HKSAR and accepted the appointment as our Senior Consultant in October 2021.