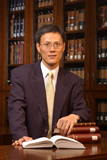 Feng
graduated from Fudan University with a Bachelor of Laws degree in 1987. He obtained a Master of Laws degree from Victoria University of Wellington in 1992 and a Doctor of philosophy degree from Peking University in 1998. Feng was admitted as a Barrister in England and Wales in 1997, and was admitted as a Barrister of the High Court of Hong Kong in 2000.
As early as from 1987, Feng started teaching at universities. Feng was an assistant lecturer at the Law Department of Fudan University. He joined the Law Department of City University of Hong Kong and is now a full professor and its Association Dean. He is also the Director of the Centre for Chinese and Comparative Law of City University of Hong Kong.
Feng specializes in Chinese law, constitutional and administrative law, environmental law and intellectual property law. He has been invited to provide expert opinions on Chinese law on various occasions by the governmental departments of Hong Kong, international, overseas and local law firms.
Feng was appointed as a Director of the China Law Society in 2013. In 2015, Feng was elected Director of the Chinese Judicial Studies Association, an affiliated organisation of the Supreme People's Court.